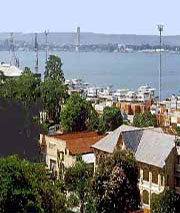 Despite the Democratic Republic of Congo's (GDP/cap US$118) (formerly known as Zaire) large population and abundant natural resources - including the second largest rainforest in the world - the country's long history of corruption and civil war have retarded economic growth.

When Laurent Kabila overthrew the long-established kleptomaniac dictator Mobutu Sese Seko in 1997, there was generally a positive outlook. But President Kabila's failure to institute meaningful reform sparked civil unrest, which escalated into a full-scale war involving seven other nations (pro-government: Angola, Namibia, Zimbabwe; opposition: Eritrea, Burundi, Rwanda, Uganda). Many efforts towards peaceful reconciliation have been attempted, but none has proved truly successful. Despite the signature of the Lusaka Accord in 1999 and the withdrawal of most foreign troops, fighting still continues in some provinces, especially the Eastern region. Kabila senior was assassinated in 2001.

The DRC is still under an interim government headed by Pres. Joseph Kabila. The first fully-democratic poll since the country's independence from Belgium in 1960 was held on July 30, 2006. But no clear winner has emerged; Kabila and his opposition rival Jean-Pierre Bemba will contest a run-off vote in October.

The new constitution of DRC guarantees the right of individuals to private ownership of property. It also encourages and watches over the security of foreign investment. Nor land is prohibited to foreign ownership. So I guess this is enough to conclude that foreigners can own land and property in DRC.

Despite the new Constitution, protection of property rights is weak. There are also problems faced by the pygmy communities. Now that land is privately owned, based on land titles, the pygmies, who formerly owned land collectively, are left landless.