Income tax in Cape Verde
July 10, 2018
INDIVIDUAL TAXATION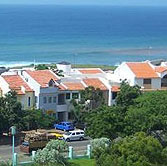 Residents are taxed on their income from sources in Cape Verde. Although the tax law is uncertain as to whether worldwide or territorial principle applies in the islands, the tax authorities state that Cape Verde follows the territoriality principle.
If the head of the household is a resident, all the other members of the household are considered residents for tax purposes.
INCOME TAX (imposto único sobre os rendimentos)
There are four categories of income in Cape Verde:
Category A - income from immovable property
Category B - business income
Category C - investment income (interest and royalties)
Category D - earned income (employment income)
Income tax is levied at progressive rates. Spouses living together are taxed under an income-splitting system, which allows them to divide their combined income by two for the purposes of applying the progressive rates. The resulting tax liability is then doubled.
INCOME TAX 2016

TAXABLE INCOME, CVE (US$)
TAX RATE
Up to 408,843 (US$3,894)
11.67%
408,843 - 860,163 (US$8,192)
15.56%
860,163 - 1,720,327 (US$16,384)
21.39%
1,720,327 - 2,580,490 (US$24,576)
27.22%
Over 2,580,490 (US$24,576)
45%
Source: Global Property Guide
Residents are entitled to some deductions and allowances.
RENTAL INCOME
Rental income belongs in Category A and is subject to 10% final withholding tax. Residents are entitled to the following deductions:
10% of the gross income to account for income-generating expenses
30% of the interest and amortization on loans in connection with the purchase or construction of a dwelling rented as permanent accommodation, up to CVE72,000 (US$686)
CAPITAL GAINS
Capital gains derived from selling property connected with a business are subject to capital gains tax. In calculating the taxable capital gains, acquisition costs and incidental costs as well as improvement costs are deductible. Only 50% of the resulting capital gains are subject to tax.
Capital gains realized from selling a resident´s principal residence are exempt from taxation, provided that the proceeds are reinvested in another residential property.
PROPERTY TAX
Property Tax (imposto único sobre o património)
Property tax is levied on the property value at a flat rate of 3%.
CORPORATE TAXATION
INCOME TAX
Income and capital gains earned by companies are subject to corporate income tax at a flat rate of 25%. Income-generating expenses are deductible when calculating taxable income.
Cape Verde - More data and information