Cameroon, (pop. located 18,855,000; GDP/cap US$913) located in West Africa, is a French-speaking African country created by the unification of two different colonies, French and British. The country is largely rural, with 42.6% of the GDP coming from the agricultural sector. Although agricultural conditions are good, and there is oil, Cameroon's potential is unrealized due to mismanagement.

Corruption is pervasive at all levels of government, despite political stability marked by a continuous presidency by Paul Biya since 1982 (a 1992 multiparty election further confirmed his hold on Cameroonian politics) and a functioning relationship with its African neighbors and with the West, most notably with the United States of America.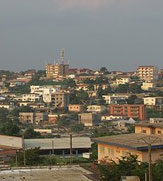 Cameroon ranks with Iraq, Azerbaijan, Ethiopia, among others, as one of the most corrupt countries in the 2005 Global Corruption report. There is state ownership of key industries and corporations, heavy government intervention in the economy, high taxes, and omnipresent over-regulation.

Despite all this, the country has now reached HIPC completion point of the Heavily Indebted Poor Countries (HIPC) initiative. Taking advantage of this opportunity will require a stepped-up effort to fight corruption. We wish them luck.