Botswana's residential property market remains largely underdeveloped, but seems to offer huge growth potential. Because of the absence of official and timely house price statistics in Botswana, it is difficult to analyse the market, but local real estate experts say that house prices in the country have continued to rise in recent years.

The relative lack of housing supply has led to high rental yields in Botswana, according to research conducted by Global Property Guide suggesting that yields of 6.5% to 9.5% can be enjoyed on residential property in Gaborone and Francistown. This is supported by a recent research conducted by Centre for Affordable Housing Finance in Africa (CAHF), which shows that rental properties in the city centrecurrently offer high gross rental yields of 7.9%. Residential properties located outside the city centre also offer healthy rental yields of about 5.5%.

The price of a newly built house measuring 60 square metres (sq. m) starts at BWP370,000 (US$36,000) in 2016, while the average rent for a residential property stood at US$315 per month, according to the CAHF.

Botswana is rated the most attractive investment destination in Africa by the Africa Investment Index 2016 published by Quantum Global Research Lab, due to its improved credit rating, favourable current account ratio, import cover, and ease of doing business.

Botswana is also considered one of the freest economies in the region by Heritage's 2017 Index of Economic Freedom. The government's regulatory environment encourages growth and openness to trade and foreign investment.

The Botswana Government actively seeks out foreign investment and is happy to sell land to foreigners. Only tribal land and state land cannot be sold to foreigners, and in most areas of Gabarone (and indeed Botswana) land can be bought.

According to the World Bank, it takes about 12 days to register a property in Botswana in 2016, compared to an average of 57.5 days for sub-Saharan Africa. The process costs around 5.1% of the value of the property. To increase tenure security and improve transparency on land and property ownership, the Ministry of Lands and Housing is implementing a nationwide land registration system.

According to the IPD Botswana Annual Property Consultative Index, which is published annually by investment research firm MSCI, the total return for all properties (residential and non-residential) in Botswana stood at 16.5% in 2015, from annual returns of 11.5% in 2014, 21.5% in 2013, 17.9% in 2012, and 20.9% in 2011. For residential properties, total returns stood at 6.4% in 2015. The income return for residential properties was 4.1%, whilst the capital return was 2.2%.

Both demand and property values in Botswana are expected to continue rising modestly this year, amidst improving economic conditions, according to local property experts.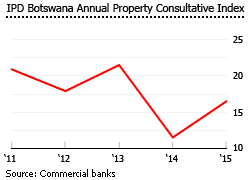 According to Lloyd Sungirirai of real estate investment and development company Vantage Properties, the residential real estate market remains upbeat, with demand for low to mid-income properties expected to be very high, amidst inadequate supply. However, Sungirirai noted that the tightening of lending criteria,and the rising popularity of unsecured credit, hinder the growth of the real estate market.

Botswana's economy grew by 2.9% in 2016 from a year earlier, an improvement from a contraction of 1.7% in 2015 but still far below its average annual growth rate of 6.9% from 2010 to 2014. The economy is projected to grow by a healthy 4.1% this year and by another 4.2% in 2017, according to the International Monetary Fund(IMF).


Analysis of Botswana Residential Property Market »