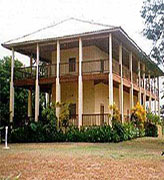 Benin, (pop. 7,860,000; GDP/cap US$682) situated between Nigeria and Togo in Western Africa, was the first African dictatorship to successfully make the transition to political pluralism.

After a succession of coups after independence from France in 1960, Major Mathieu Kẻrẻkou rose to power in 1972 espousing Marxist-Leninist principles, earning Benin the title "Cuba of Africa." His Revolutionary Party of the People of Benin (PRPB) ruled till the early 1990's, when under pressure from the international community Kẻrẻkou instituted democratic reforms.

In the 1992 elections Prime Minister Nicephore Soglo emerged as victor, but Kerekou returned to power in 1996. He won a second term in the 2001 presidential elections. Political newcomer Yayi Boni won the 2006 presidential elections.

Benin is one of the poorest countries in the world. Although its economy has improved since democratization (despite much corruption, and heavy reliance on subsistence agriculture) its real output growth of about 5% over the past seven years has been largely offset by rapid population growth.

There are no controls on the purchase of land by non-residents, except for investments in enterprises, branches, or corporations. But the country's land tenure system is complicated and unclear. It is difficult to transfer clear property titles.